2024 QX60 Specs, Performance, Review
Scheduled for release in 2024, the INFINITI QX60 is gearing up for its initial wave of updates. This stylish crossover SUV first hit the market in 2022 but hasn't received any notable improvements since then. However, INFINITI has exciting plans in store, as they aim to introduce a range of enhancements for the upcoming model. While we don't foresee any major transformations, there's a strong likelihood that a series of upgrades will be incorporated, elevating the overall driving experience.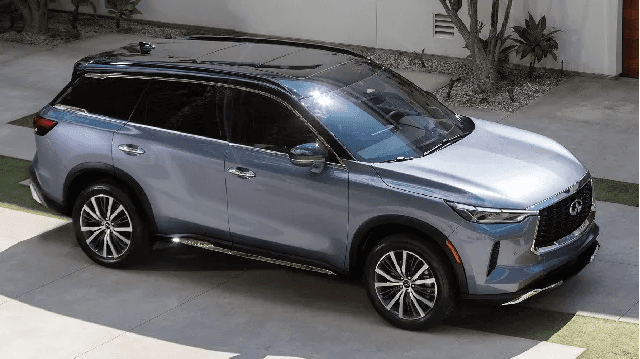 Performance of the New INFINITI QX60 
We don't expect any major upgrades planned for the powertrain of the 2024 INFINITI QX60, as it will continue to be equipped with the standard 3.5-liter engine. This robust V6 powertrain generates an impressive 295 horsepower and 270 lb-ft of torque. The standard configuration features front-wheel drive, while all-wheel drive is available. 
There are also no indications that a hybrid powertrain will be introduced for this model, so it should retain the same V6 engine paired with a 9-speed automatic transmission. 
Are There New Style Changes in the INFINITI QX60 for 2024?
Originally introduced in 2022, The QX60 is derived from the QX60 Monograph Concept, making it a relatively new SUV characterized by its contemporary design and luxurious aesthetics. While INFINITI will undoubtedly make a few changes, we expect the primary focus to be on providing fresh exterior color options and packages.
As for potential alterations, we might anticipate subtle modifications like a slightly wider grille or a fresh bumper design. However, it seems that the vehicle's side profile will likely stay untouched, and there are currently no indications of any upcoming wheel design updates. In terms of the rear section, we can expect minor enhancements, such as updated graphics on the taillights.
Interior Design for the 2024 INFINITI QX60
Continuing the theme inside of the 2024 INFINITI QX60, we anticipate it will have upgrades to its infotainment system. This luxurious three-row SUV will retain the same 12.3-inch touchscreen; however, a new iteration of the infotainment system is currently in development. Notable features such as the digital instrument cluster, and dashboard are expected to stay the same. The seating configuration will also remain intact, accommodating up to seven occupants across three rows of seats.
As with every other INFINITI vehicle, the QX60 boasts a cabin constructed from high-quality materials. The interior showcases impressive color combinations, exquisite quilted stitching, and a remarkable comfort level. The new model is set to introduce additional driver-assistance aids and potentially a new technology package, enhancing its overall appeal.
New QX60 for sale near Lafayette
The next time you are in the market for a luxurious SUV, look no further than INFINITI of Lafayette! While we anxiously await the arrival of the highly anticipated 2024 QX60, we invite you to explore the equally exceptional 2023 QX60. At INFINITI of Lafayette, we take great pride in providing a wide range of new INFINITI vehicles to drivers in Lafayette and the surrounding areas of Louisiana. We invite you to visit our dealership and discover our extensive inventory and new specials. Come on down and experience the luxury firsthand!