Back To School Carpool Hacks
The kids are back in school and INFINITI of Lafayette would like to give you some helpful tips that will make your carpool experience easier.
The sole purpose of carpooling is convenience and to get passengers places on time. There will always be one person in your carpool group who will be consistently late in the mornings. To keep the peace it is best to set ground rules so all parents are on the same page. Music can also play a huge roll in the carpool world. Our advice would be to let the passengers rotate playlist on each day. You could also make a playlist with everyone's favorite songs and keep it on shuffle. If you choose to have a device friendly car you may want to think about having chargers available. It is also a good idea to give the devices a break and have the kids interact. Some great car games to keep everyone entertained is I Spy or 20 Questions.
If you are on duty to pick the kids up from school you may have some "hangry" kids at pickup. It is always a good idea to keep snacks and drinks on hand for when the kiddos load up. Some crumb-free snacks are fruits, popcorn,&  string cheese. Easy to pack drinks are juice boxes or water bottles are great to pack as well. Another helpful tip is to keep a first aid kit in your car. You never know when this could come in handy. Another helpful tip for school pick up is to keep an extra booster seat on hand could always be helpful. You never know when a mom will need your help last minute.
The best tip we can give you is to trade in your current vehicle for a 2019 INFINITI QX80. The cargo space is everything you need to make it through this school year! We have great offers going on now! INFINITI of Lafayette wants you to be prepared for the 2019-2020 school year. Stop by today and let us help you into your new 2019 QX80.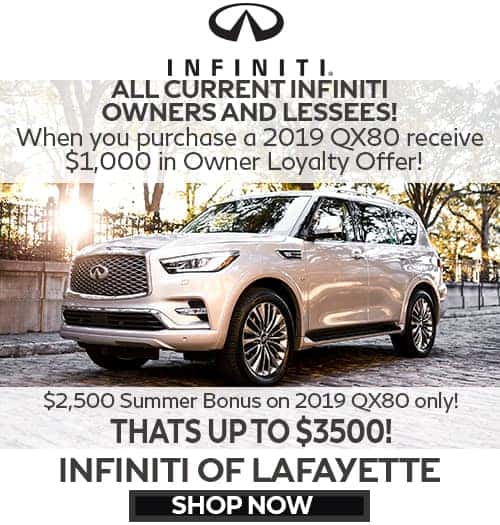 $2,500 Summer Bonus available towards the lease or retail purchase of a 2019 QX80 vehicle. Summer Bonus valid through 09/03/2019. Down payment may be required. Subject to credit approval and residency restrictions. Must take delivery from new retailer stock. Current INFINITI owners and lessees are eligible for Owner Loyalty incentive of $1,000 toward the Lease or Retail Purchase of 2019 QX80. Owner Loyalty incentive is valid through 09/30/2019. Offer is valid and transferable within owner's household. Offer may not be transferred outside of owner's household. Down payment may be required. Subject to credit approval and residency restrictions. No trade-in required. Documentation of vehicle ownership is required to qualify. Must take delivery from new Retailer stock. See your local INFINITI Retailer for details.