DISCOVER THE INFINITI Q60 IN LAFAYETTE FROM INFINITI OF LAFAYETTE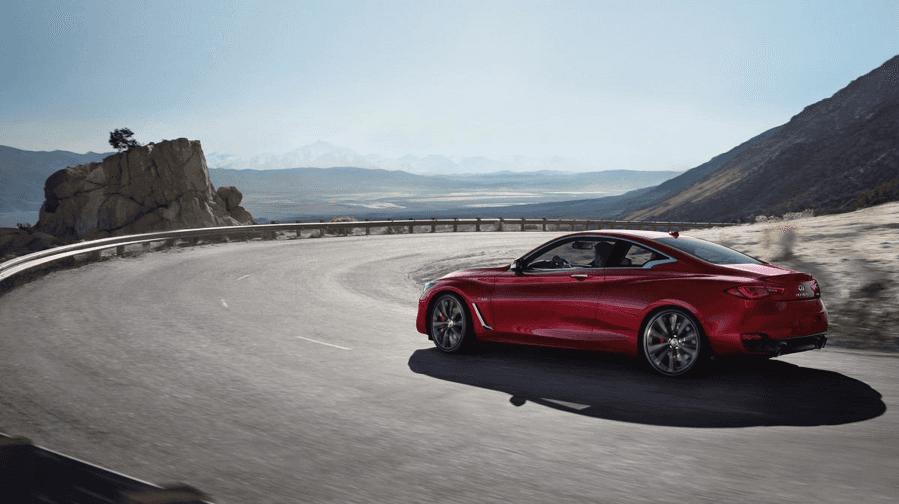 Elegant style, intuitive design, and remarkable performance are all signatures of the INFINITI brand. The INFINITI Q60 is one car, in particular, that embodies these attributes to a great extent. Its sleek exterior and impressive performance capabilities make this stylish sedan a blast to drive. INFINITI of Lafayette has a large selection of INFINITI cars and SUVs in our inventory, including the all-new INFINITI Q60.
Choose Between Three Engines
In the 2018 INFINITI Q60, you'll have three engines to choose from – each providing an ideal blend of power and efficiency. Firstly, the 2.0-liter I4 Turbocharged Engine is capable of putting 400 horsepower on the road, as well as reaching 258 lb-ft of torque at 5,500 rpm. Secondly, the 3.0-Liter V6 Twin-Turbo 300-HP engine is made of lightweight aluminum and is equipped with a new cooling and valve timing system and friction-reducing technologies that make your performance more powerful than ever. Lastly, the 3.0-liter V6 Twin-Turbo 400-HP engine, available in the Q60 Red Sport 400, you get access to acceleration that is seemingly instant and without limits. Gasoline Direct Injection, water-cooled air charging, a turbo speed sensor, and an advanced turbine blade are some of the technologies that take the Q60 to even greater peaks of performance.
The INFINITI Q60 Delivers Dynamic and Powerful Performance
The INFINITI Q60 has a variety of performance technologies within it that propel it further head of the competition. For example, Dynamic Digital Suspension will constantly adjust to corners and holes or divots in the road so that you get cushion and control when traversing these terrains. In addition, available Direct Adaptive Steering® digitally collects the information coming from your steering input and immediately delivers it to the wheels. Through its digital processing power, you can steer more quickly and turn more smoothly than ever. It will also execute similar functions to Direct Adaptive Steering® – when you are on uneven roads, the system will constantly make subtle adjustments for a greater sense if stability. Finally, Drive Mode Selector allows drivers to pick between Standard, Snow, ECO, Sport, Sport+, and Personalized modes that enhances your performance and control. You can adjust your steering, engine, and suspension inputs as well. Your driving experience is essentially what you want to make it! The many performance technologies in the Q60 ensure you never get bored of driving this sedan.
The Interior of the INFINITI Q60 is Defined by Modern Elegance
In the INFINITI Q60, you will immediately notice the premium materials installed throughout its entire interior, and the space afforded to the driver and passengers means everyone gets to ride in comfort. The intuitively placed instrument panel lets you easily access any vehicle functions you need. Not only is the interior of the Q60 spacious and elegant, but it comes with a variety of different design element options so that you can find the cabin that most accurately reflects your personal tastes. Available accents like dark wood trim, black carbon fiber trim, or silver optic trim are all available in the Q60. You'll also appreciate the Sport-inspired thumb grips and steering wheel mounted paddle shifters that add the finishing touches to a car tailor-made for performance driving.
INFINITI of Lafayette has the All-New INFINITI Q60 in Lafayette
INFINITI of Lafayette has proudly provided customer service that is driven toward complete customer satisfaction. Through sales, finance, and service, our staff is dedicated to giving you a dealership experience that you will thoroughly enjoy. Our inventory of new and used INFINITI cars and SUVs gives customers the very best of what the INFINITI lineup has to offer, and we have specials available on these cars too so you can save on your purchase. INFINITI of Lafayette also has the new 2018 Q60 in Lafayette. Simply put, this well-rounded car will not leave you wanting for greater style, more amenities, or more powerful performance. If you have any questions regarding the cars we have in our inventory or our special offers, don't hesitate to contact us or come in for a visit!