THE BREATHTAKING INFINITI Q70 IN LAFAYETTE IS A SUPERIOR LUXURY VEHICLE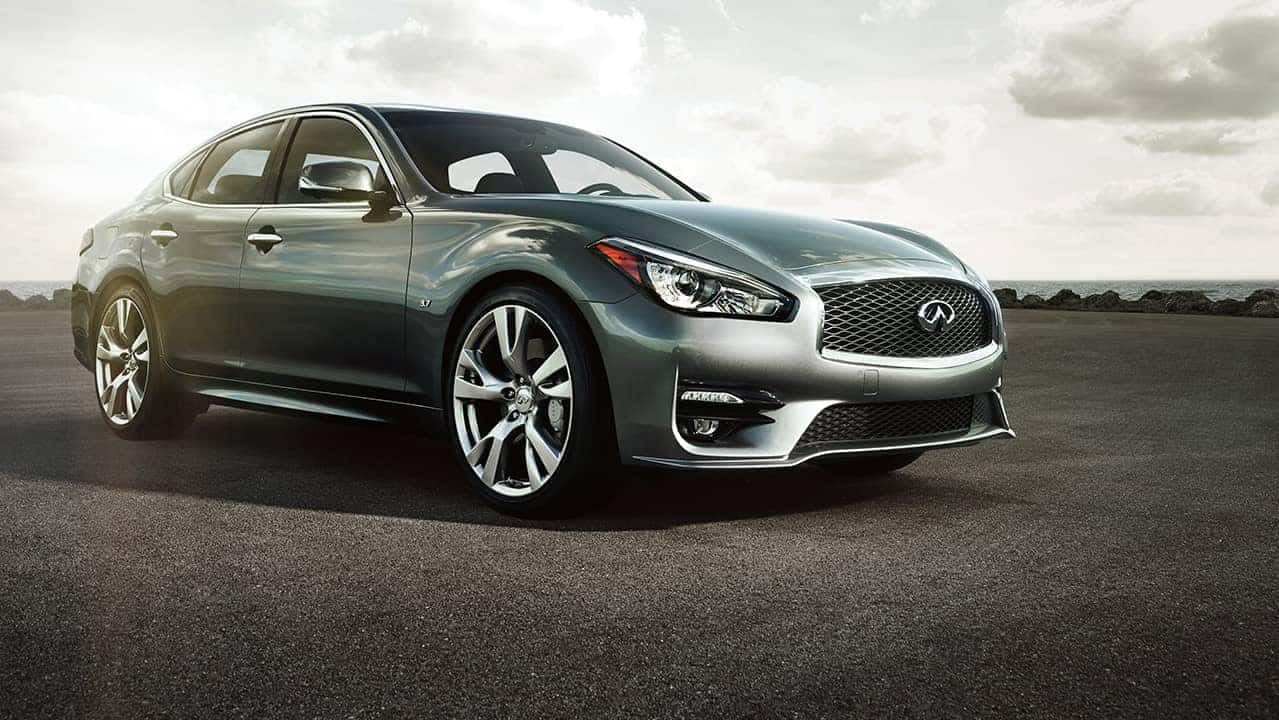 When it comes to luxurious design, no one does it better than INFINITI. No car exemplifies this better than the INFINITI Q70. Intuitive interior design fitted with soft touch materials, a stylish body, powerful performance, and an unparalleled attention to detail puts the Q70 above the competition in nearly every respect. If you are looking for this luxury sedan at a great price, look no further than INFINITI of Lafayette, which has the new INFINITI Q70 available today!
The INFINITI Q70 is silky smooth in its exterior design, and its silky contours and aerodynamic design will turn heads as it seemingly glides down the road. The front fascia adds an athletic dynamic to its appearance, too. The inside of the Q70 will blow you away as well with its refined beauty. The instrumentation and amenities are placed intuitively so everything is easily within your reach. The small details that the Q70 gets right will make you appreciate the genius of this car that much more, like the soft-touch materials cloaking each component. The Japanese Ash wood trim, hand-buffed and hand-polished, embodies the inner allure of the Q70. Finally, you will find that the seats are hard to remove yourself from, as they are crafted with the softest of fabrics that achieves an incredible blend of silken texture and tension. Ultimately, you may find yourself never wanting to leave the beautiful and cozy cabin of the Q70.
STAY CONNECTED WITH THE INTEGRATED TECHNOLOGY OF THE INFINITI Q70
In the INFINITI Q70, you never have to be concerned with losing touch of your devices, thanks to INFINITI Connection™. This system includes of a variety of digital applications and remote services that keep you in touch with your vehicle and technologies. You will stay informed in the Q70 also, due to the up-to-the-minute traffic and weather updated Navigation system. In addition, you'll be able to enjoy your music through 16-speaker Bose® Studio Surround® sound system. Whether you have an iPhone, iPod, or USB memory stick, the Q70 system will be compatible. Lastly, you will have an enhanced awareness of your surroundings from the Around View® Monitor, which employs advanced technology and four cameras to create a virtual 360° bird's eye view that lets you see everything around you. It also includes Moving Object Detection, which gives alerts you to moving objects in the display image. The Q70 is made to make your drive easier and more entertaining.
GET RELIABLE, EXHILARATING PERFORMANCE IN THE INFINITI Q70
Simply put, the power and handling of the INFINITI Q70 make it a blast to drive. Its capabilities mainly derive from its 3.7-liter V6 or 5.6-liter V8 engine, which uses Exclusive VVEL® technology to lends itself to improved engine response and enhanced fuel economy. This translates into 420 horsepower and acceleration that will amaze you. With the available Intelligent AWD system monitoring wheel-spin, throttle position, and vehicle speed, you can achieve greater traction when conditions are poor. Sport-tuned suspension and double piston shock absorbs makes for a smoother drive, too. Last but not least, the INFINITI Q70 delivers even acceleration through Acceleration Swell so you get a continual build of momentum as you press down of the gas. What's more, the Front-Midship platform provides greater balance to the Q70 so you get reduced body roll. You will never be disappointed with the engineering imbued in the Q70.
THE INFINITI Q70 IN Lafayette IS AVAILABLE AT INFINITI of Lafayette
We spend so much time in our cars, why not make it a luxury experience every time? With the INFINITI Q70, you get the full package of the highest quality materials, design, and engineering available. If you are searching for the INFINITI Q70 in Lafayette, there is no better place to purchase this vehicle than at INFINITI of Lafayette. We have great prices and a friendly staff eager to share their expertise with you, and our attitude is oriented toward ensuring you receive the absolute best customer care. We are located at 6201 Johnston St, Lafayette, LA 70503, and you can reach our sales department at (877) 342-7898.